As they say, "Fool me once, shame on you. Fool me twice, shame on me!" I feel like a dang fool right about now. You see, I trusted Wells Fargo Bank and their Home Mortgage Loans division to do the right thing, i.e., to make things right for me. It seems expecting follow through from WF employees was too much to ask for. Before I get into the latest mess that has been my rental property refinance process, let me provide you with a link to the first part of this unfortunate saga.
A day after I wrote, Wells Fargo Kills My Rental Prop Refi..., I received emails from both a WFHM Processing Manager AND Branch Manager, apologizing for "any lack of communication" on their side. The Branch Manager, Ryan, would actually call me and explain to me that my Mortgage Consultant, Will, had gotten some things mixed up and that my loan would indeed be approved, with a guaranteed 4.75% interest rate. Remember, rental properties command higher interest rates because they are riskier. This occurred in mid-May.
My Mortgage Consultant, Will, also called me in mid-May and apologized to me for the mistakes he made. He reiterated the offer of 4.75% interest rate on a 30-year rate and term loan for my rental property and stated I wouldn't have to come to closing with any money. By this time my rental property had appraised at $170K, exactly where we needed it. Essentially, I was back in the game, so to speak. Things, I thought, would start moving forward once again and I could finally put this experience past me. I was wrong.
In early June, Will sent me a text message. He wanted to know if I had a Title company out in Memphis, TN (where my property is located) I wanted to work with. This made me feel like we were heading in the right direction. Will sent an email out to Stewart Title.
On June 8th, I sent Ryan and Kelly an email seeking an update on a potential close date. Kelly replied on June 11th:
Hi Carlos ~ your file is being reviewed by the processor next after she is finished with the file she is currently working on. You will be hearing form us today. J
Thank you for allowing us another chance to get this done for you. J
But I never heard back from the "Processor." On June 15th, I was sent new Loan Disclosure Docs by WFHM. The new Docs showed the rate at 4.75% as I had been guaranteed, but it also showed that I had to bring $800 "cash to close." I mean, it's not a lot of money, but the point was they had assured me I'd not be paying any money to close. So I texted Will. Will reassured me. He texted me back, stating "these numbers get adjusted prior to closing," and "we'll make sure you're bringing in a limited amount at close." Okay, I thought.
On June 18th, Will texted me again, stating a title rep had finally been assigned. But something soon changed. It was as if I were a brand new applicant. Will asked me for more documents, communicating as the in-between with Underwriting. Why did my Mortgage Consultant have to do this? I've done many refinance applications with reputable lenders and they always assign someone other than the consultant to reach out for docs. Well...I did have someone before. Her name is Leticia. Apparently, the Branch decided to excuse Leticia from having to work with me after I wrote about her lack of customer service. But they failed to assign anyone else!
Here is a list of everything I had to produce between June 18th and Monday, August 10th for Will and the mysterious WF Underwriters:
1) A statement from my Roth IRA company showing I transferred funds to Wells Fargo Roth IRA. (This was a basic custodian to custodian transfer and WF wanted to know where the money came from).
2) All of my mortgage statements once again. I had to once again log-on, download, and upload every single mortgage statement for my five current properties.
3) A copy of the Loan Proposal from a separate Refinance application I was doing with Cherry Creek Mortgage on my personal residence. Wells Fargo's underwriters wanted to make sure I was doing a "rate and term" refi only, i.e., not getting any cash back on the refi of my personal residence.
4) An explanation as to why Cherry Creek Mortgage ran a credit check/report. Obviously they ran a credit check prior to my closing date with them so as to make sure I had not taken out any new credit! But WF wanted an explanation nonetheless.
5) A "signed" Settlement Statement from the Title/Escrow company that handled my closing with Cherry Creek Mortgage. I'd sent Will my copy, scanned, but the WF underwriters wanted it signed by the Radiant Title/escrow agent. This meant more leg work for me, of course.
On August 3rd, I emailed Ryan and Kelly, and asked them if my application had been shelved. No answer.
Will was the only one to respond:
"Hi Carlos, nothing is shelved we just got another request from the underwriter for more things. I can't believe it. Did your other refi close already?"
This text message conversation is what led to request for docs number 5 from above.
Even WF legal is Unresponsive!
I had a letter sent to me recapping my initial experience with WF Home Mortgage. I decided to call the number and talk to the letter's author, a lady named, Sara. When I looked her up on LinkedIn, turns out she's part of their legal department. Well...I left an angry complaint on her line, asking her to address my matter. She never contacted me back. It was as if my call never happened.
I called their Home Mortgage Customer Service Department and was received by a lady named, Jennifer, an Executive Office Case Specialist. She was so receptive! I thought I had the wrong number at first. Jennifer said she would make a thorough inquiry. This was on August 4th. I followed up with Jennifer on August 13th. She stated:
Sorry for the delayed response. I just got access to my computer. I see we are pending underwriting currently. My investigation is still open, and I have no conclusion just yet. I am working diligently to get this taken care of. I apologize.
Would I Be Treated Differently If I Were White Or Does WF Just Suck?
I'm not so sure I would've been treated differently if I were white. Unfortunately, because Wells Fargo has held my application in limbo (underwriting) since mid-May, these are they types of negative thoughts that enter one's head. Mind you, I started my application in early March! I am going on 5.5 months of this process. Is this not excessive? Even with Covid-19, I know plenty of people who have been in and out with a refi process in less than 2 months! With other banks, of course. Not shady, Wells Fargo!
Meanwhile, I haven't been able to apply for new credit. Why? Because if you apply for new credit during a home loan application, your debt-to-income ratio can change. This is cause for the bank dismissing your application. I'm sure you've heard Realtors tell you, don't buy anything on your credit card right before Closing.
Just look at all of these angry consumers who have had the misfortune of working with WF Home Mortgage: Consumer Affairs, 1-Star, 235 Ratings.
While I'm At It
The current CEO of WF is Charles W. Scharf. He's been at the helm since October 21, 2019. He's definitely inherited a mess. His predecessors led WF into the 2016 account fraud that cost the company billions...hence shady! If WF is to become the reputable bank it used to be (I've been a multi-account client since the late 90s), Mr. Scharf is going to have to make deep, and I mean deep, changes to the company's culture, obviously in the area of customer service.
Wells Fargo Stock is vastly under-performing its peers: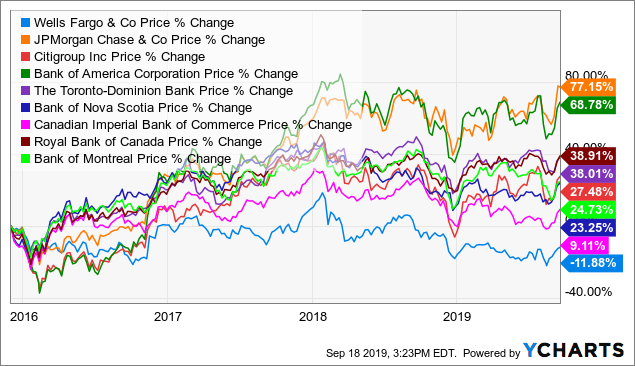 Credit for chart: Stefan Redlich at Seekingalpha.com
I Just Want Closure
I'm seriously tired of dealing with WF. If it wasn't painstaking, I'd be looking to close out all of my accounts with them. I want what was promised to me both verbally and in writing. And I think I have been patient enough. As we Latinos say, Ya Basta! Enough is enough, WF. I want a Close date, and docs ready for a notary now! Before I go, I want to thank Will for being my advocate and for seemingly being the only one at WF that cares about my application.
How about you amigos? Have you had a negative experience with WF Home Mortgage? Comment below. Thanks for reading! Until next time.