I was at the Home Depot on Monday, getting 5 gallons of paint. Jessica wants a new interior look, and after over ten years of seeing the same colors on our downstairs walls, I don't blame her. Back in 2006 I used a terracotta for our dining room, a yellow for our kitchen, and a green for our living room. What can I say...I got a little artistic while single. Today, however, the walls look like they can use a new coat, especially with our kids marking it all up.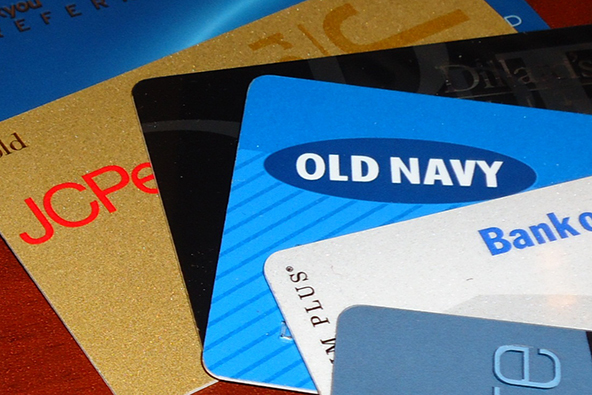 Labor day is great for homeowners because the promotional savings at places like HD and Lowe's are substantial. We purchased a 5-gallon bucket of Marquee, HD's best paint brand for $170 with a $40 rebate. If filling out a rebate form and sending it in the mail is too hard for you, or if it's something you'll forget, do it as soon as you get home. I took care of it immediately by requesting my rebate online. Rebates are not the topic of today's blog post though. Store credit cards are. You see, as I was paying for my paint and supplies, the woman at the register asked me if I wanted to apply for a HD card. It came with some perk that I can't even recall right now because I tune out these types of requests. Many retail stores offer a store credit card option for a 10% savings and people take the offer. They figure they can save more money. But…
We already know Americans have an awful habit of not paying all of their credit card balances on time. According to
CNBC
, the average American household has an outstanding balance of $8,377! As a country, Americans owe more than 1 trillion in credit card debt. Wowsers! Opening up a store credit card to save 10% on a purchase, and to continually save on purchases at that same store may sound like a logical thing to do. Here are 5 reasons why you may want to pass up that offer to open an account next time you're enticed:
1. According to a CreditCards.com 2016 survey, store cards charge an average Annual Percentage Rate (APR) of 23.84% while regular cards not tied to a retailer charge on average only 15.77%. So if you don't pay off your balances in full every month, you'll pay back that 10% you saved in interest charges by your second payment.
2. If you cancel your card because you realize you're too tempted to keep using it, your credit score will drop. This happens anytime you close a credit card account. The solution here would be to transfer your outstanding balance to a fee-free regular credit card and hide the store one. Better yet, have someone else hide it from you so you really won't know where it is!
3. The store you shop at can close for good leaving you inconvenienced. Corporate offices determine which store locations deserve to remain open every year based on same store sales comparisons. If the let's say, Target, you shop at with your store credit card should close its doors, and other Targets are far away, you'll have to drive further to continue using your credit card in person, or stick to online purchases only.
4. The retailer goes out of business all across the state or country. Remember Sports Authority? Sears? The former is defunct while the latter is on its way to joining the fallen victims of Amazon. So what happens to your credit card in this scenario? A) Your account is forcibly closed. That's right, there's nothing you can do about it. Your credit score takes a hit. Oh, and don't think you don't owe the rest of your balance because you do. These retail stores have relationships with banks who are ultimately going to want their money from you.
5. Continuing from above, B) your account is assigned a line of credit with another retailer, one you don't actually want to shop with! Sure they'll give you advanced notification of all of this, but what if you truly don't like shopping at the newly assigned retailer? Only one thing you can do: close the account and incur a credit score hit.
No retailer is safe these days. The juggernaut that is Amazon is affecting every aspect of the retail industry, margins, sales, distribution, etc., and by virtue of buying other businesses (Whole Foods for example) no space is safe. But even if this weren't happening, opening a store credit card just doesn't make any sense. Not when you can get better perks by using a standard credit card with a lower APR. Best case for your financials is to not have to use credit, of course. And if you do, simply so that you can rack up points or rewards, make sure you pay off your balances each month. Please don't be a credit card debt statistic.
Thanks for reading! Until next time.