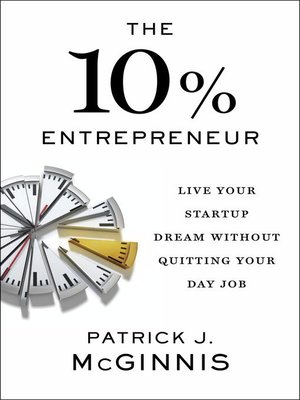 The 10% Entrepreneur: Live Your Startup Dream Without Quitting Your Day Job by Patrick J. McGinnis delivers a slew of wisdom without losing steam. It is one of those types of books you can read and feel a strong sense of accomplishment (for having surprisingly made it from cover to cover) afterward. The stories included provide a solid rationale for why you should become an entrepreneur, if even at the slightest level, 10% of your possible time after your day job.
Mr. McGinnis gives us a manual to side-hustle entrepreneurship, and it has nothing to do with you picking up a freelance job on Upwork! That's just plain you continuing to be an employee. Instead, he creates a new model for how we, entrepreneurs, define our activities. These he dubs: The Five Types of 10% Entrepreneurs. I'll leave it to you to read up on these for yourself. What I want to do right now is share what was most salient to me.
1. Diversification should not just be a catch phrase for investing; it should also remind you to continually look for business and equity opportunities beyond what your career can offer.
2. Your career should not define you. In fact, if that is all you have going for you, you're still trapped in the 20th century. Consider yourself lucky if you have not been met with unfortunate circumstances.
3. If you have no expertise (intellectual capital) in anything else not involving the skills of your career, find someone who does and either partner with them, or let them train you. Any new field (of expertise) you can absorb may be a candidate for a future role for you as an Advisor, Founder, Aficionado, and indeed, any of the five types of 10% entrepreneurs.
4. Your resume or professional biography (such as the one you may have published on Linkedin) should not be a big blurb of everything you have ever done. It should be crafted for the people or current opportunities you want to attract as a 10% entrepreneur. Include your name, what you do, why you are credible in that area, and what you're looking to achieve in your 10% role. "You are giving a very high-level overview to invite further conversation."--McGinnis, p.157.
My Story is that of a 10% Entrepreneur!
Prior to reading this book, I was (and currently still am) living the life of a 10% entrepreneur. I feel a sense of peace knowing now what to call myself. If you go to my homepage and click on the Browse by Topic page, you'll see that the first entries relate to situations where I jumped from one 10% entrepreneur role to another. I was attempting at that point in time to formulate my own conclusions and protocol for others on how to do what I did.
I've been an Advisor (for RichUncles.com) and worked for equity, an Aficionado (for Golden Joe's & Homevesting and Makerthreads.com) and worked for the prospect of additional opportunity (such as an equity position), a Founder with my company, Common Core Money, outside of my day job as a teacher. I've yet to be an Angel, but have considered investing on Wefunder.com so this may soon be something I can add to my professional biography.
What I am really passionate about is helping startups, especially those that are early in their growth cycle, get exposure and raise the funding they need to keep growing. I want to keep being an Advisor and Aficionado, as opposed to starting a venture myself that will take me away from what I also love to do: teach. As Mr. McGinnis stated, there will be many new ventures that fall on your lap and you have to decide which ones are worth your time and commitment. You have to do your due diligence and decide whether or not the venture will "fit within your 10% Plan so that you can contribute meaningfully to the company, and make connections or gain experience and intellectual capital for future endeavors."--p.128
Of equal importance is weighing whether or not the company is positioned for success, if it is in an attractive industry, if your ROI compensates for any risk you may take, and if the people at the company are ethical, competent managers.
The 10% Entrepreneur is one book you want to have in your library. I bought mine at Amazon and if you follow the enclosed links, you'll help me monitize my efforts here today. I could sure use this on a teacher's salary! Thanks for reading!