After 11 years of home ownership in my current home, one that I bought brand new from a builder in 2005, my wife and I finally started the process of remodeling, albeit little by little. Everything inside my home is outdated. So where to begin was something we debated for over a month. We finally decided to start in the master bedroom, and treat ourselves to a more luxurious cleansing environment. In San Diego county, a bathroom remodel can offer triple digit returns on your money! Imagine a plain bathroom with linoleum flooring, beige tile counters, and a fiber glass shower and tub. That was my master bathroom! With some sweat, and guidance from my father-in-law, Travis, a former spec home builder, we were able to save thousands of dollars. Now I will show YOU how to do it yourself.
Many of my readers who happen to be contractors aren't going to like what I have to share. They make their living from being able to capitalize on what you don't know when charging for their services. I apologize to the many contractors for giving the rest of my readers the insiders edge. Here is how to do a major bathroom remodel for $5K to $10K less than the quote you'd receive from a full service bathroom remodeling company. Step by Step.
Step 1. Measure the dimensions of what you plan on tiling or what you plan on installing granite on (surface area). Get an approximate number and add about 10% more to your measured amount.
Step 2. Buy the resurfacing material. (If you don't do this step, you won't have the nerve to keep going. That is why I put buying the material at step 2!) Shop around for the best deals. What Jessica and I did, taking my father-in-law along, is drive to several stone yards for comparison purposes. We found Granix Stone yard in San Marcos, CA to have the best prices and selection in North County, SD. Travis asked the courteous sales rep that approached us (Maurice) if he had slabs that were low in their inventory and/or on their way to being discontinued. This is usually where the sales are for all of you not catching my drift. Like the clearance section of a retail shop. Maurice took us to several pieces stacked near the store entrance, away from the yard. We found three Lapidus slabs we really liked. We only needed two.
We paid a Special Sale rate of $10.68 per square foot on granite that was originally priced at $19 and change per square foot! Our out the door total on 111.4 square feet of granite was $1,285! If you want to know how your contractor gets the most money from you...it is in the purchase of granite from their own store or stores they work with! If you can side-step this and get the granite on your own, you will save a bundle. The granite stays in the yard until you need it so you don't have to worry about taking it home with you.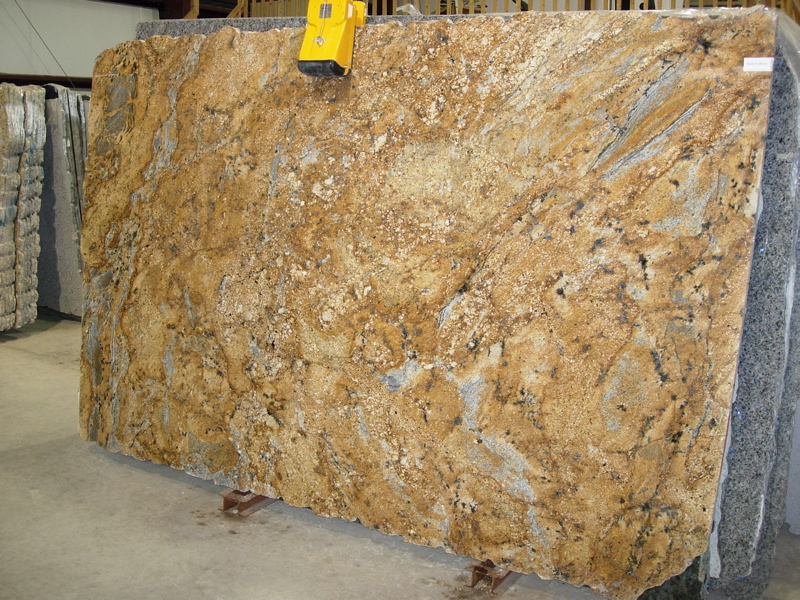 Not my granite but it looks just like this
Step 3. Demo yourself. If you have a fiberglass shower and bathroom encasing like me, you will need to buy a Makita grinder. You can get one for under $100 at Lowe's.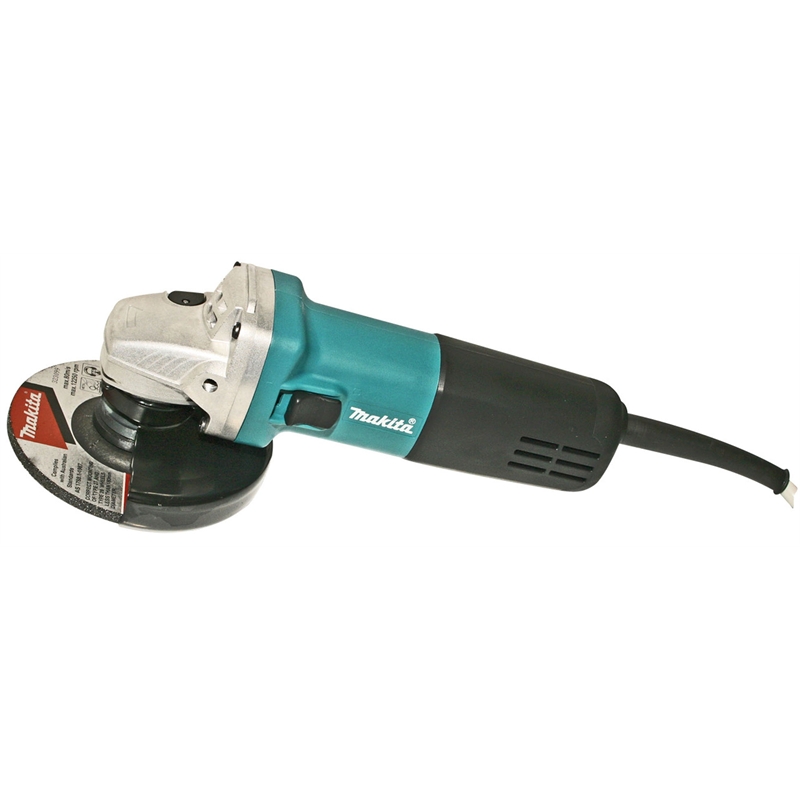 Other tools you will need include a hammer, nail puller ($15), a utility or folding knife, screwdriver, drill, chalk-snap line, and tape measure. If you want to save even more like we did, keep your tub and simply remove/cut out any tiled or fiber glass backsplash. You can always tile or put granite on top of the surface of the tub and make it into an undermount tub.
See where the Hardiebacker board is above the tub? That used to be the tub's fiberglass back-splash. We cut it out using the Makita. We're saving at least $800 on not having to buy a new tub.
We all got gray hair from the demo. Grinders grind people! Cover your stuff.
Be careful not to hammer out too much of the drywall around your shower fiberglass. If you do, don't worry, you can always fix it with patch & paint spackling, and texture. Get about two inches out so you can get to the nailed edges of the encasing. Use the back of the hammer to knock out the cut border you framed with the snap chalk line. You will come across nails. Use the nail bar remover to pull them out.
Step 4. Find a granite installer. The way we did it is we asked the Maurice at Granix Stone to give us two to three recommendations for reliable and budget friendly granite installers. He gave us three cards and we went on our way. We called all three. Only two of them called us back. We scheduled each of them to come to our home, listen to our project idea, and give us a quote. Check them out. The same job!
With the two sink cut outs (last line) the total on this quote is $3,085.
Here's a look a quote number 2:
$4,093. $1K more than the quote from Jose Mendoza of CSR. Guess who we hired?
Jose Mendoza of Counter Stone Repair making precise measurements. Tel. #: 760-622-6576.
Even though I put finding a granite guy at step 3, the granite or tiling if that's what you choose, do not come into play until the end. But you need to secure one to stay at a decent remodeling pace. After all, your shower and bathtub are out of commission during the process.
Everything below here has to happen first before the granite or tiling installers step in.
Step 5. Buy your new shower, tub, and sink fixtures. But don't go rushing to Lowe's or HD just yet. How old is your shower valve? If it's over eight years old, chances are the manufacturer has changed the whole set up and you will need a plumber to remove the old valve, and install the new one. For example, we had chrome Delta fixtures. Jessica wanted oil rubbed bronze on everything. In order to keep the old valve (and avoid hiring a plumber) we needed to either find the same fixture online or find an oil rubbed bronze one that fit. With Jessica adamant about all new oil rubbed bronze stuff, finding one that fit was the only option. We got lucky and actually found one that fit at Lowe's. But in the end, we decided to update the valve, despite finding a fixture that fit the one we had (see pic below). Why? Just to be sure nothing would burst from old age in the future.
Here's the old shower valve
Step 6. Hiring a plumber to change your shower valve, and hot and cold copper pipes under your bathtub and sinks. Plumbing can get very expensive. For good reason. It involves cutting the old lines out correctly, making sure water doesn't gush out, torching and soldering (sweating the pipes), and much more. Look at the pic above again. You can see there is a junction between Wisbro plastic and copper in the hot and cold water pipes. They are not easy for the DIY homeowner to remove! I don't suggest you try it at home. So get at least three different bids from a plumber and go with the least expensive one. My neighbor shared with me prior to my remodel that he paid a plumber $1,000 just to change the shower valve! I did not want to spend that much. Luckily, we found Miguel!
Miguel Gonzalez (760-521-9849) framing the pan. See Miguel soldering below:
Step 7. Hiring a "pan" guy. The pan is essentially the bottom of the shower (looks like a pan). They frame the bottom of the shower with wood into a rectangle. The shower drain is in the middle, of course. Before looking for a pan guy ourselves, we asked Jose, our granite guy if he knew of anyone who could frame our pan. Here's a hint, these guys all work with each other and they usually recommend those they do jobs with at sites. Jose gave us Miguel Gonzalez's number and we scheduled a visit for him. We asked Miguel if he knew a plumber that could remove the shower valve, do fusion jobs, and take care of replacing the pipes on our old sinks that connected to our new fittings. He did. Miguel happened to also be a plumber. Two needed skills in one worker!
New shower valve on
We showed and told Miguel everything we needed. For replacing the shower valve, changing the copper cold and hot water pipes so they fit the new oil bronzed fixtures on both sinks, and the tub, and tiling the pan (Miguel tiles too), Miguel quoted us at $1480! This included $350 for hot mopping the pan, a service he'd hire someone else to do. Like all processes, Miguel had to wait on the hot mop tar seal before he could float the cement on top.
Step 8. Hot mopping the pan. This is a very dangerous, and stinky job. Miguel called on Frank Paradas, the eponymous founder of, Paradas & Sons, "Shower pans specializing in waterproofing showers. Serving all San Diego County." 760-845-0269.
Sheets of Dura Seal 25 inside the pan. Frank hot mopping below. Have several fans going during the process to make it breathable in your room and leave them on as long as you can.
Step 9
. Once the tar dries (overnight) you can have the pan guy come back and float the cement. This process involves taking semi-wet cement and compacting it inside the rectangular surface of the pan, above the tar seal. You're going to want this step done as soon as possible as it helps smother the smell of the tar. Miguel came back the next day to float the cement out of courtesy to us.
Looks like it is still wet, doesn't it? It's dry at this point. By Frank Paradas.
Concrete float on top of tar pan, by Miguel Gonzalez
Step 10. Screw in the hardiebacker board on the studs in your shower. Once the cement dries, you can step inside the pan and drill in the hardiebacker board. You'll need drywall screws, and a decent drill. Having the right tools makes a huge difference. We tried at first to drill into the board letting the drill (Phillips head) bit hold the screw and were unsuccessful many times. The screw would fall. So we went to Lowe's and bought a screw drive sleeve for under $10 and saved ourselves a bunch of time, and effort!
Me drilling drywall screws into hardiebacker using screw drive sleeve. We came across a problem doing one of the boards. See video below:
Finishing gluing on the board. Never drill into your tar seal!
You'll also have to caulk or silicone the cracks/gaps in between the hardiebacker board pieces. We decided to use thin-set mortar that we had left over from tiling the downstairs bathroom. It's cheaper than caulking and works better!
Thin-set mortar in between panels.
Step 11. Your plumber should've already checked on this for you, but in case they didn't...before calling on your granite installer to come back for final measurements, you should check to see if the new valve stems for your bathtub and sinks fit the holes at the top. Our new bathtub valve stems were slightly wider than the holes our current bathtub has cut at the top. Make sure you tell your granite installer this important detail.
Capped valve stems. The bathtub didn't have a shut-off! Ugh. Miguel checked sizing for us and capped these stems so we could continue using the water upstairs.
Step 12. Get your granite installer to return for final measurements. Jose Mendoza of CSR brought some strips of wood with him and wrote measurements on them. We had him add doing a 1 ft by 1 ft soap dish implant on the non-shower head wall. It takes 4-7 business days for Jose to cut the slabs and come back to install. We negotiated this added soap dish by agreeing to demo the tile on the counters ourselves. The hardest part was removing the backsplash. The tiles were very tightly snug under the mirrors.
It has been 8 days since we started this master bedroom remodel project. We are awaiting the return of Jose with the granite pieces, and for the installation to take place. I will document the installation of the granite for you, and let you see the finished bathroom in the next blog post. There is only one other thing to do once the granite is installed: Shop for glass doors and have them installed! Then you'll finally be able to take a shower in your new luxurious master bedroom.
Also in the next post, I'll do a financial summary, telling you what I spent on this project, how I paid for it, and how much I possibly saved by doing things myself (and by being the contractor). I have learned considerably during this process. Thanks go to my experienced/retired spec home builder, father-in-law, Travis Grimmett, who I am pushing to become a homeowner remodeling consultant and help homeowners in the same way he has helped us.
Thanks!