I must confess...I've never read a self-help book on how to build a successful online business. Yet I'm currently building an online business! And guess what? You're witness to it. Here I am creating something out of nothing without any clothes on, fully naked, so to speak. (Please don't picture me actually in the nude...scary sight).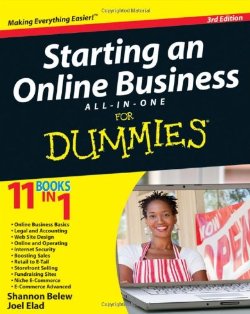 This looks like a good one to read someday
My left lobe is telling me to slow down. That perhaps it would be prudent to take the time to read a few good books on the topic of small/online business development. But my limbic system is out control, constantly daring me to continue moving forward. It doesn't help that after every "accomplishment" my brain is flooded with neurotransmitters looking to hit their mark, and spur me on even further. The fear of failure is so raw...it's so primitive. It should make me want to stop dead in my tracks. But I haven't succumbed to it. I've failed so often publicly and privately that at this point I feel numb. What's another time going to do to me? Who knows, maybe I'll succeed this time out?
My eighties and nineties hero: MJ
On Accomplishment
The word "accomplishment" has many meanings in business, as I am learning. Some people would consider the successful completion of the steps necessary to start a business an "accomplishment." To me they are more like "set-up" tasks. Obviously, without taking care of the set-up steps involved in starting a business, there is no formal business to speak of, whether it be profitable or not. Nonetheless, there is cause for celebration once everything is in order to start making money, is there not? I mean, why would people be so congratulatory when someone says, "I started a business," in a conversation?
In order to continue to experience other types of business related accomplishments, I think I'd better start writing down some goals and their metrics, i.e., how I plan on measuring (with actual numerical evidence) whether I have met those goals or not. I'll do that later, and maybe even buy a book or two on the online business development process. For now, I'd like to share with you the steps I have take thus far to set-up my online business, well...for business! My intent is not to necessarily provide you with a blueprint, as there are many ways to formalize a business. Rather, I'd like to offer you what I have done so you see that it is an easy process, one that you should not feel intimidated by.
What I Have Done So CCM Is Open for Business
If you read the post, One San Diego Co ARCC Office... you will have noted the very first step I took toward opening my company: filing a Fictitious Business Name Statement. See this post for the rationale to doing this.
Filing a Fictitious Business Name Statement is a coupled task. In addition to the county being in receipt of your statement, and "stamping it" once you've paid your fee, there is the additional responsibility of publication. Prior to leaving the ARCC office, the person attending to you will provide a sheet containing a list of newspapers where you can post an ad announcing your File No. to the public. This is a pretty outdated process and I'm not sure if San Diego County is just behind the times. I mean, who reads newspapers nowadays? (Okay some people do, but it's not where most people get their news today). Some of the periodicals I could've employed for this chore don't even have an online edition! I decided to go with one that was large enough to handle the ad, and also reporting back to the county with an affidavit of publication. I chose U-T San Diego (North County). You call them up with the given phone number, talk to the rep in charge of this type of activity, and send them a PDF of your FBNS via email. The rep then sends you a draft of what the ad will look like and your job is to make sure everything has been listed correctly, especially the name of your business! I had to send a correction back. Here is what the final draft looked like for your familiarity:
(Wealthfront.com is an advertising beast! "Beast" is a word used by teenagers today to describe prowess.)
The step I took next to get my business identified took some assistance. As you know, there is hardly any type of business income that goes untaxed. If there is money being made, Uncle Sam will want his share. If you're making money and not reporting it, Uncle Sam will want you in a cell. So obviously, I am talking here about registering for an Employer Identification Number or EIN. IRS.gov Site on EINs. One thing is knowing you need to get this done, yet another is knowing how to do it. That is why I called upon my trusty wealth building teammate, Cheryl. Cheryl has been my Enrolled Agent for several years. For all my ideas and ventures, I call upon her tax structuring expertise to guide me so that... 1) I don't do something the IRS will punish me for (don't be afraid of the IRS!) and most importantly...2) I minimize my tax ramifications.
In order to get an EIN from the IRS, all individuals, employers, partnerships, government agencies, etc., must complete form SS-4 online, Online Application Site. Cheryl sent me a PDF copy via email and told me that prior to going online, I should complete a written version so as to avoid getting stuck during the actual process. This was good advice. The part I was most confused with was 9a, Type of Entity.
I wanted to strike, "Corporation," believing this was the correct option since I want to eventually form a Limited Liability Corporation, or an LLC, Sba.gov on LLCs. But I was too ahead of myself. For one, forming an LLC takes time. You can do it quickly online at sites such as Legalzoom.com or LLC.com. But is quick always the best? Depends, right? I did not want this part of my business start-up process to be done hastily. Cheryl also gave me a money saving tip. Selecting "Sole Proprietor" avoids the minimum $800 franchising fee imposed yearly by the "business friendly" (NOT!) State of California.
Since I was doing this in October of this year, it made no sense to complete the incorporation process at this juncture, other than to limit my liability of course. (This is in motion, and the job will be done conveniently by my new lawyer, Kelly Bagla, baglalaw.com in January of 2015). I cannot stress enough how important it is for a small business entrepreneur to get some legal counsel! Do not jeopardize your personal assets in this litigious world we live in.

Kelly specializes in business start-up legal consulting. Too often entrepreneurs are full-speed ahead on business development, not noticing the hazards out on the road. These hazards include laws and possible violations of these laws as you carry out your business, unknowingly getting yourself into legal ramifications that could stall you out or worse, end your voyage. Kelly's recommendations thus far? A sound legal disclaimer. Perhaps you've noticed the new page? Thanks, Kelly!
Meeting with Kelly in Carlsbad, CA. Friendliest and most responsive Lawyer ever!!!
Review of Steps
To put all of it together now...here are the steps listed in chronological order (the order I took, but not what everyone else needs to take):
1) Filed for a Fictitious Business Name at the San Diego Co. San Marcos, CA branch ARCC office.
2) Publication Ad of the filing of the FBN with a local newspaper.
3) Consulted with my EA (Enrolled Agent) for tax considerations.
4) Got an Employee Identification Number online at IRS.gov, form SS-4.
5) Consulted with Kelly (by the way, she was recommended to me by my Enrolled Agent, Cheryl) on business structure. Immediately started the process for step 6.
6) Get a Legal Disclaimer for both CCM blog and website.
What are my next steps? You'll have to check back!